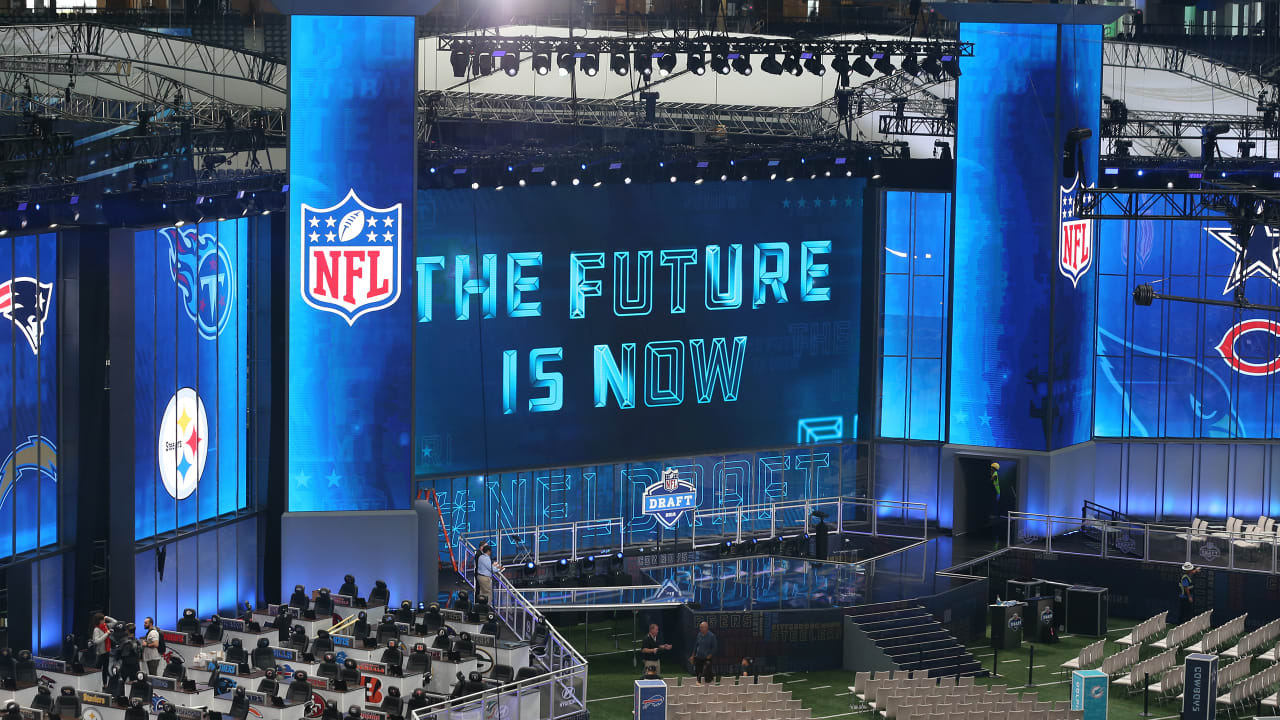 With only two hours to go here is the final mock before the 2020 NFL Draft kicks off!!!
1 - MIA - Maurice Andrews OT Alabama - The dolphins roster is bad, one way to improve it is improving the OL. a 4.82 40 yard dash, 35 bench reps, and a 6.5 combine grade, Andrews is a lock for the top pick if the dolphins management is smart.
2 - NYG - Brenden Foster QB LSU - Fosters heisman campaign continued into the combine where he can a sub 4.8 40 and aced every other drill. A would be number one lock if the dolphins didnt have rosen.
3 - MIN - Terrell Potter IDL Tennessee - The vikings have needs at the two worst position groups to have needs at. OL and DL. The vikings brilliantly traded away an elite edge rusher to take an interior rusher? Well at least potter looks good.
4 - OAK - LeKambrick Carney LB Alabama - Carney is a stud. 4.48 40 (best for lbs) also best in the 3 cone and shuttle. He immediately brings lb help to the raiders. Could be the best player in the draft.
5 - SF - Jameson King WR Boston College - The 49ers may have been screwed out of a trade for alshon jeffrey, but when Jameson ran a 4.42, he flew up radars. He is a speedy wr who can actually run routes.
6 - HOU - Denard Dailey C W. Michigan - The texans were a sad story last year, but with jason peters signing in FA and now drafting an interior OL who can kick to guard who can kick over to guard. Texans OL will go from trash to mediocre!
7 - DEN - Wade Alridge LB OK State- the Broncos have a ton of needs, but getting a solid lb core is key. Guys like Wade won't really be around much in fa or for trades. So grab em while you can
8 - CLE (From AZ) - Lamar McKenzie S Alabama - yay exactly what we didnt want happening, a stacked roster giving up dudes he cant resign and late ass picks to get a stud. TrAdE cOmMiTtEe ShOuLdNt DiCtAtE sTuFf fuck outta here
7.7 combine grade btw. Thanks guys.
9 - PIT - Wade Fisher QB Texas - Big ben wont be around forever, best to try and find a guy now so when ben is gone the steelers can continue a high level of qb play. Fisher is slow and a more old school mold but is a good thrower of the football.
10 - NO - Tyler Bartlett TE Texas - Fishers go to in college goes to a perfect place, the saints get a young dynamic player. He is the highest graded TE in the draft since Rob Gronkowski. A massice 6'6" 250 lbs, he runs a sub 4.7 and has hands like a wr. Time will tell if he can gel in NO
11 - LAR (From IND) - Reggie Barnard OT USC - Well thanks to the rams playing yankee swap with qbs they are in a position to replace the retired andrew whitworth. Barnard is a massive 6'7" amd 340lbs, almost the size of my penis, so he will be a hard person to stop on the DL. and hes fast. Just like me in bed.
12 - SEA - Robert Holley C Clemson, seahawks need OL help, and Holley can fill the void at left guard and help the seahawks push past the rams in the division.
13 - PHI (From BAL) - Chris Cantu OG Washington - The eagles trade up, making this thier 1000th trade. With a load roster in some areas, the team has a major hole at LG and secondary, this fills one of them immediately.
14 - DAL - Bruce Boswell CB Tulane - The cowboys are in a unique situation where they dont have a ton of needs. So they get the luxury of BPA and in a top 10 where OL will get reached for, they get the best corner in the draft.
15 - JAX - Bobby Abbott IDL Alabama - The shags have a need at DT with Campbell going back to the dessert. What a great thing the best interior DL in the draft. Good pickup for the Shags.
16 - ATL (From CIN) - Bart Evans DT Oregon - Another team making moves in the top half of the first round. Atlanta moves up to grab a solid interior defender who will make a solid one two punch with Grady Jarret.. Maybe not a need, but best player has always been this gms motto. Win now and bpa. So essentially traded julio for a DT
17 - WAS - Dewayne Wilkinson CB Louisville - An undersized but feisty athletic corner who will fit right into the redskins 34 disguise scheme and a top two corner on the roster. With WRs being meh, redskins are happy to improve their secondary.
18 - OAK (From CHI) - Josh Spencer TE Miami - The raiders got the D with their first pick, now they add a tight end. He is not the player Tyler bartlett is, but he is still a sure fire weapon in the quick pass game.
19 - NYJ - Leonard Sherman OG Houston - The jets need desperate help on the OL. Sherman is a little bit of a reach, but he can be a day one starter for a depleted jets line. And with the bills, pats, and even dolphins have stronger dl units, upgrading the OL is a must. Especially when the ghost whisperer sam darnold now has a new weapon in Nelson Agholor.
20 - TB - Peyton Ohelps OG Stanford - The bucs almost didnt make it. But here they are, the last OL that is worthy of a first round grade. They pick up Phelps to shore up an offensive unit that needs help at guard.
21 - MIN (From LAR) - Keshawn Sherman EDGE Boston College - The vikings go DL with back to back first rounders. They lost Griffen, Hunter, and Joseph. GG. Well at least they got to fix that OL in free agency . . . oh wait. F
22 - BAL (From PHI) - Jahzir Henson LB Boston college - Boston College has three first round selections fun fact! Ravens trade down, get an extra second and still get a solid linebacker. Excellent trade for the ravens.
23 - SF (From NE) - Matthew Ball S Miami - 49ers took BPA with stud fast wr King earlier, now they go BPA and take a hard hitting safety in Ball. his 4.40 forty will probs make him go top 10 so gg this prediction, but hey tolgz, im sure you like this mocked pick! :)
24 - CIN (From ATL via BUF) - Pierre Pratt LB Minnesota - SKI U MAH 8-0 LFG!!! The benglas trade down, get an early 2nd, and still get a solid linebacker? Love what the bengals and ravens are doing in this draft so far. Great move and pick up by the bengals front office here. Bengals are going minimum of 11-5 next year. Book it.
25 - DET - Jose Carroll LB W. Kentucky - we have a run on LBs here, the lions ol holes cant get addressed, and bpa wont help either for their needs, so a reach for a solid user backer will be decent enough for them to be happy. Look for a trade up or down here.
26 - TEN - Daniel Olsen EDGE Northwestern - The titans go to fill a need here at edge rusher, olsen may have a 2nd round red diamond thing, but he is worthy of a late first.
27 - GB - Charlton McClellan WR Ohio - A solid fast wr with a solid route running tree and an ability to create seperation vs press. Great pickup in the late first for the packers.
28 - LAC - Byron Thornton IDL - Penn State - The chargers really only have holes on their ol and interior DL. Thornton adds athleticism, power, and raw talent, some work on fundamentals and he will be solid. With no block shed rating in his top three, expect it to be in the mid to low 70s.
29 - CAR - Tyrone June - CB Michigan State - A slower, but physical press corner who can immediately help a depleted secondary in carolina to help them get over the hump in the NFC.
30 - NE (From KC) - Anthony Darden EDGE Arizona State - The patriots need help on the DL still, Rankins and Malik Collins inside with Winovich and Darden on the outside may give them a formidable pass rush.
31 - AZ (From ATL) - Bo Albert WR Gerogia - The cardinals wanted to trade up, but i can assure you they will be happy with how the draft turns out, they get thier shot at falling stars or sleeprs. Albert is fast, good hands, good route running, and can create seperation. Great pick here.
32 - AZ (From CLE) - Cassidy Dailey OT NDSU - A reach in the first round, but the cards need help at OL, and dailey is a blooming star at LT, his 3rd round grade may scare people, but it shouldnt.
ROUND 2
33 - LAR (From MIA) - Riley Alexander OG Fresno State - Rams go OT then OG, their three started on the left average like a 65 overall. They need help. Alexander can offer that.
34 - NYG - Tracy Quinn S Missouri - The giants have McLeod but hes slow, Quinn gives them three solid safties to play a big nickel look in a spread day and age. Solid pickup.
35 - MIN - Brian Todd OT Miss State - Vikings need to draft an OL sometime.. right?
36 - LAR (From CHI via OAK) - Rob Williams C UCF - Three straight OL picks for the rams? Very possible, the OL is ass. If they dont fix it now they will fall from a playoff team to a top ten draft pick. Three picks - three starters is good to me.
37 - SEA (From SF) - Patrick Poe S Tx Southern - The hawks took a center in the first, now jump to their safeties to help shore up another big need for them.
38 - HOU - Michael Hood HB UND - The texans were interested in Jordan Howard in FA, now their patience pays off and nets them the best hb in the class.
39 - DEN - Courtney DuVall IDL Clemson - The broncos went interior OL in the first, now interior DL in the second. Beefing up the middle is never a bad move for any team.
40 - JAX (From AZ) - Josiah Reese S Boise St - Jags took Abbott to replace Campbell in R1, now a fast box safety to add to a very suspect back end of the defense.
41 - PIT - Lance Metcalf CB Cincinnati - Yes hes slower, but he can still play ball. And with a rough secondary, itll have to do for a second rounder.
42 - MIA (From NO) - Cecil Ingram HB Arizona - Slow and stiff hb with power behind him. The dolphins need a dude who can break tackles from being hit behind the los every play
43 - IND - Tyrone Pendleton EDGE Boise State - The colts first pick goes to an athletic edge rusher who can rotate in for indy day one.
44 - SEA - Wade Abbott EDGE UNLV - With edge rushers thin, a falling meh player finds a home. Give him some time and he may be solid. He has a sound run defender with some quickness, he just needs to work on his pass rushing skills.
45 - BAL - Sean Acosta EDGE Auburn - Ravens went off ball lb first now they snatch a rising player who may fly under some radars with a rush on OL.
46 - CHI (From DAL) - Jerron Patton IDL FAU - The bears have a big hole finding young and solid interior DL, patton is just that for the bears first pick of the night.
47 - CIN (From ATL via JAX) - Silas Carson OT Purdue - Bengals need ol bad here come some reaches
48 - CIN - Chandler Fisher OG Oregon State - Bengals find two starters on their OL here in the mid second, thats about as good as anyone can hope for in madden.
49 - IND (From WAS) - Bradley Lindsay LB Florida State - The colts snag a falling LB who is a little raw but can develop into a solid rotational early down LB.
50 - CHI - Javier Waynes IDL Alabama - Second pick for the bears and a second IDL. Bears are old and meh other than goldman and they should stack up on them.
51 - NYJ - Raheem Curry CB Florida - Curry is raw, really raw, but he is extremely fast and that is always a plus. Cant teach speed.
52 - CHI (From TB) - Damarious Hurns CB Kansas - Bears go for a third defender. The defense is getting expensive and with players like Cooper Kupp, Mitch Trubiscuit, and Tarik Cohen with expiring contracts, the defense needs to get younger and cheaper fast.
53 - LAR - Teryan Lawrence CB NDSU - Rams are thin at OL and DB. they addressed OL, now time to work on corners. Man to man guy in the rams press man scheme.
54 - BAL (From PHI) - Gerard Culver WR UCLA - Ravens take a gamble on Culver. 4.46, 9th in both agility and acc drills. Good top three ratings. Seems better than the low grade to me. Ravens are an organization that can take risks
55 - NO (From NE) - Trey Glenn LB West Georgia - More lbs continue to fall just because of the way madden generates LBs. Could be a solid dude but who knows. Saints have a roster to take that risk.
56 - NYJ (From BUF) - Chuck Weston LB Wake Forest - Jets go for another fast lb to give them a dynamic trio at LB with user cheese abilities
57 - DET - Keegan Cotton OT Arizona State - Lions reach for a tackle with a high upside to help this team out in the long haul.
58 - TEN - Dustin Steele TE TAMU - The 6'5" 275 pound behamoth will help the titans in the short quick game and the run game. Love the pick here for the titans.
59 - GB - Dale Roy TE Liberty - Packers reach for a TE here for a lot of upside; he was a storyline player early in the season so packers reach for an upside.
60 - LAC - Deonte Peoples QB Tulane - Chargers do a yvng money and take a mobile qb for his offense.
61 - GB (From CAR) - Marquise Ashley LB Ole Miss - Packers pick up a decent LB who can get into the rotation down the stretch in S2
62 - KC - Nate Stephens OT Texas Tech - First pick of the chiefs is a reach for one of the few remaining OL in the draft.
63 - MIA (From ATL) - Phillip Sinclair OT LSU - Dolphins continue on to try and repair a miserable OL
64 - CLE - Nyles Kuper IDL TAMU - To cap off the mock the browns try and continue to build a powerful defensive front and try to go back to back.