Top 5 CB's to Build Around in SPA Legacy
by Chris_75866 1 week ago
---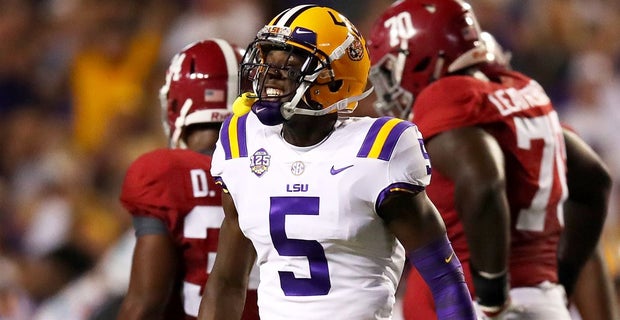 ---
Top 5 CB's to Build Around in SPA Legacy
Arguably the second most important position in Madden. It's very crucial to have guys that can cover all the weapons that the league has. Good corners are a must-have when it comes to being succesfull in SPA Legacy. There are too many guys that have superstars, x factor and/or crazy speed. If you have a couple of bums at CB, it will be curtains for you quickly.
There are a bunch of young, fast, cap-friendly, coverage guys in SPA Legacy. This is a group that consists of mostly drafted players with one true player making the list. Notable guys that just missed the cut were: JD Duvall, Kristian Fulton, Derek Stingley, and Shaun Wade. All of these guys are fantastic talents and would be great to build around at the cornerback spot, but all of them are stars and when stacking them up against some other guys in the league, they just didn't quite make it in. Here are the guys that did make the list.
5. Sidney Wilbon
Sidney is an interesting choice and the only CB with consideration that was slower than 90 speed. Again, speed isn't the end all be all, but it does help greatly. Even if a guy isn't great in coverage, he can run with the receiver and a user can switch over to make the rest happen. What I like about Wilbon is that he's only 23 years old. If the right time and effort is put into him, he can easily make it to 85 overall and gain his 2nd ability. The first one isn't going to help really as he has return man, but none the less, with him being 23 and superstar, that gives him plenty of space to grow. He also has great size at 6'3, he's the tallest guy on the list and an absolute giant compared to the top man on the list. His contract is also great with him seeing less than $1 million per season. He may not have speed but he has everything else you need, Wilbon comes in at 5.
4. Dominick Boone
The young gun of the group, Boone is only 21 years of age. This is another guy with good size at 6'0 and over 200 pounds. Boone kind of reminds me of a saftey with his size. He definitely moves like a number 1 corner though. He has 94 speed, 92 acceleration, 91 agility and 89 change of direction. The guy can straight fly, I'd feel comfortable with him being able to stay with anyone in the league for long enough for the d line to make a play. With his hidden dev trait, Boone is seeing xp at the highest rate possible, this is ideal for a 21 year old cornerback with skill set that he has. I can definitely see Boone crawling into the mid to high 80s by the end of next season. I wouldn't be surprised if Trey can get him to Superstar either. I could make an argument for Boone to be higher on the list but ultimately the abilities of the guys above him just edged him out. Boone is the 4th best CB to build around in SPA Legacy.
3. Greedy Williams
Greedy is one of the top CB's to start the Madden cycle and his youth allows him to stay on the list. He's 25 years old and is now up to superstar. Greedy is also really big and lengthy at 6'2. He also brings a lot of speed with that size with 94 speed and acceleration. His man coverage is at 92 and his press is at 89. Honestly the only thing keeping him from top on the spot was that his abilities are both for short routes. That isn't a bad thing by any means but it was considered when making the list. I really like Greedy and I'd stack him up against any receiver in the league and feel comfortable with him. He was resigned to a new deal but it is relatively friendly at just over $5 million per season. Greedy is a mighty 3rd on the CB build around list.
2. Phillip Turner
A man I have tried to get on my team because he's that damn good. Phillip Turner is just 23 years old and he's a superstar. His two abilities are recuperation and short route KO. Again, can just take away the short stuff, but his age bumped him up over Greedy in this case. I like the recuperation for a defensive player actually. Defensive players get fatigued far faster than offensive players do. That can come in handy if a team switches to no huddle. Turner is also pretty shifty and fast. He currently has 93 speed, 94 acceleration, 93 agility, and 90 change of direction. His man coverage is also deadly at 93. Youth, speed, cover skills, and friendly contract at just over $5 million, you can't go wrong with Phillip Turner. He lands 2nd on the list.
1. Kary Vincent Jr.
I know, I know... I picked my own player at 1, but hell, if the shoe fits wear the damn thing. Vincent is number 1 for a few reasons, but the main one is his cap hit to teams. He is seeing roughly $830 thousand per season. That's an incredible price for a 87 overall CB that's still just 25 years old. Vincent is also the fastest corner on the list at 95 speed and 94 acceleration. Combine that with his mid zone KO and deep route KO. Since getting that second ability, he has been in absolute lockdown mode. His change of direction and cover skills were a bit of a problem when he entered the league at 86 change of direction and 64 man coverage skills. He is now at 89 change of direction and 89 man coverage. Vincent has all the things a team needs at the cornerback spot, one of the most team-friendly salaries, one of the fastest, great abilities and great in coverage. Kary Vincent Jr. the number 1 man to build around at the CB position in Legacy.