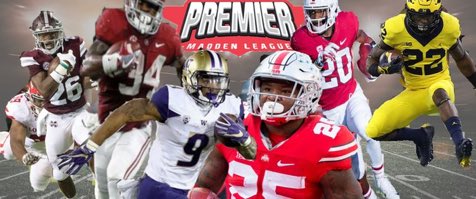 Right off the bat I'm gonna say this running back class is a lot more underwhelming than we were expecting coming into the year. We've had so many head scratching returns to school and breakout young players stealing production that this years draft isn't the best one to reach at back but if one of these guys is there you should definitely consider.
1. Bryce Love | Stanford | 5' 10" 202lbs
Projected 40: Sub-4.5 (Most likely the fastest in the class)
It takes a lot to project higher than the Heisman winner at your position but Love is a speedier back with better NFL size so it's hard to make not to make a case for him as number one. Seemingly the theme for the year, Love is a running back that went back for his senior year instead of declaring after a stellar junior season. Due to injury and need to develop younger guys, Love comes out of it a year older and with lower draft stock but not much else. Don't get me wrong Love still produced this year (Lead the NCAA in yards per run - Avg. 6.8 YPC and 122 YPG) but not even eclipsing 1,000 total scrimmage yards Love was no where near his 2,000+ rushing yard season or Heisman contention. I get it; Chasing a Heisman and BCS title with your team, being the big man on campus, is appealing but it definitely came at the cost of his draft stock projecting (projecting Top 10 last year)
Regardless of his decision to stay in school Bryce Love is still an exhilarating down-field threat. Love is fast. NCAA leader in 20+ yard rushes this year. He can jump start any teams run game with his "take it to the house" speed, his twitchy and elusive cutback moves, and deceptive power for his size. He's undersized and isn't likely a 3 down back at the NFL level, especially with the injury risk concerns, but can be a small shifty scat back that is a threat to take it to the house every time he's on the field. I project he goes late 1st round.
NFL Comparison: Best case scenario he's Chris Johnson. Worst case a Shady McCoy type (they have similar measurables and both with injury concerns coming into the draft)
2. Myles Gaskin | Washington | 5' 10" 193lbs
Projected 40: Sub-4.5
Unlike Love, I liked Myles Gaskin's decision to return to Washington this year. Topping out at a mid 4th or 5th round pick last year I thought it would be best for Gaskin's to build some mass to go with his speed and develop beyond a receiver in the backfield at the next level and while he doesn't seem to be taking the first part of my advice his decision to stay definitely paid off. Gaining 2,186 all purpose yards, Gaskin's edged out to win a RB dominated Heisman race. Gaskins PRODUCED at Washington, never falling below the 1,300 yard mark in his 4 years. Ending his college career with a bang, Gaskins ran for 1,765 yards, 20 TDs, 6.3 YPC, 126 YPG, NCAA leader at 172 yards after contact.
The kid shows good vision keeping his head on a swivel always looking for the cutback lane to the house. He's a fluid runner with strength and above average power. He's flies through holes and gets into the second level in an instance. He doesn't have Love's breakaway speed and his small frame makes me fear for his life against players like Watt, Miller, or Mosley. If he can work on adding to his size while keeping his burst he has potential to be a huge pickup, still without any guarantees I see him getting scooped on draft night or early day 2.
NFL Comparison: Honestly he has the potential to be the next Barry Sanders if not I expect him to play on the level of another undersized Heisman back, Reggie Bush (He also entered the draft coming off a 1,700+ rushing, 450+ receiving Heisman award winning year)
3. Damien Harris | Alabama | 5' 11" 215lbs
Projected 40: 4.53
Damien Harris is the first running back on my board with good size for an NFL running back and in my opinion the most complete back in the draft. While the two ahead of him are the more exciting picks, in true Alabama fashion, Harris is the most reliable. I know so many people love to make the ridiculous joke that Alabama is already an NFL-caliber team there is no question that Damien Harris is a NFL-caliber back. With 1,337 rushing yards, 464 receiving, 5.5 YPC, 95.5 YPG, he is the most complete running back coming out of this draft. He is your stereotypical 3 down back.
His stout, powerful frame will be an advantage against smaller defenders and he has the quick feet and burst to avoid the larger ones. Runs with urgency and tenacity especially on contact. In fact, his weakest spot might be his eagerness to run through the defender rather than wait for the block or find the whole. Due to him being NFL-ready he could sneak into the 1st or 2nd but I see him as an early 3rd round prospect.
NFL Comparison: Baby Beast-Mode
4. Aeris Williams | Mississippi State | 6'1" 215 lbs
Projected 40: 4.7
Two words. Pure Power. Aeris Williams is known as A-Train for a reason. He's a locomotive up the gut. At 1,304 rushing yards and 17 touchdowns this year, Williams shows great size at the position and great production against stout SEC defenses (see his breakout performances against LSU and Alabama). Although powerful Williams shows great IQ and patience behind the line and rarely misses an open hole. He has experience playing pro run schemes at Miss St. (zone, gap, power) and can read blocks and hit the hole hard. Shows ability to catch the ball in the flats but not great at making ppl miss and not extremely explosive (His longest run of the year not even over 20 yards). I expect him to be solid rotational player at the next level. I see him as a solid 3rd round pick.
NFL Comparison: Doug Martin
5. Mike Weber | Ohio State | 5' 10" 214lbs
Projected 40: 4.57
Once beating out Ezekiel Elliot for the #1 RB spot, injury and stellar performance by sophomore breakout JK Dobbins has made Mike Weber a bit of an afterthought coming into this draft. Not really all his fault but definitely losing out of draft stock having once been a premier draft prospect. However make no mistake that Weber can play at the NFL level. He's got good size, respectable speed, and a violent style of running where he's always fighting for yards. Gonna give you good production and consistency. Unfortunately, his high mileage in college left him a little banged up. He's not a receiving back, and he's not very fluid with his lower body or all that much powerful either. All around he's an average prospect and maybe a late 3rd pick.
NFL Comparison: Tevin Coleman
6. Karan Higdon | Michigan | 5' 10" 202lbs
Projected 40: Sub-4.5
Like Gaskin, Higdon needed to coming back for his senior year to increase his size but no one expected him to so drastically improved his draft stock. Hidden increased in size and showed amazing production with limited touches for Michigan this year (1,223 rushing yards and 5.5 YPC). Higdon is a burner plain and simple. He has explosive play making ability but with patience between the tackles. And his 500+ receiving yards makes him one of the best prospect catching out the backfield. He still has durability concerns at his small size but I see a high producing receiving/scat that'll likely go in the 4th or 5th
NFL Comparison: Christian McCafferty
Sleeper Pick: Artavis Pierce | Oregon State | 5' 11" 201lbs
Projected 40: 4.55
Pierce is a versatile back with great stats this year (1,306 rushing yards, 5 YPC, 100+ YPG, and 14 TDs). A Speedster with great burst into the second level and a lot of potential as a receiving back. He can also return kicks. He has a keen ability to find a way to wiggle into open space. Decently sized but not much to overwhelm you with and needs to develop ball carrier vision and patience to let blocks develop.If he's there for you in the later rounds I'd pick him up.
NFL Comparison: Maurice Jones-Drew