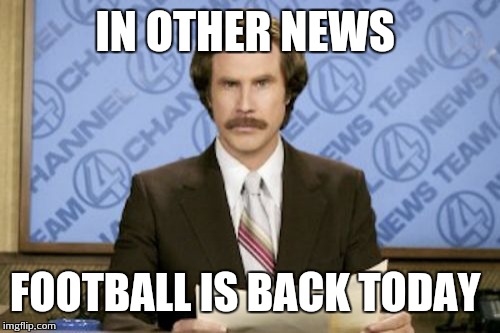 With Season 23 just kicking off let's have a look over the divisions and look at what we can expect to see in SML Europe this season.
Having a prolonged offseason has brought in numerous changes for the SML Europe league with the introduction of 10 new head coaches and many coaches returning from retirement to take the reins at teams needing new direction.
In the NFC North Bears Stalwart @Bishbosh1985 takes over after leaving Carolina under somewhat of a cloud following a drunken nightclub incident! The Bears will benefit from Bish's vast SML coaching experience turning them into contenders for the division or wildcard! Green Bay has a wealth of talent at Coach @Timbo99's disposal in order to make a play for the post season. Coach @deanomcfee has returned to the league and will try to make the Lions roar once again. SML wouldn't be complete without @MeisterEder69 steering his beloved Vikings, after impressing many over the last few seasons is MeisterEder nailed on for the division? I think the others may want to challenge for the honours.
The NFC East is one of the toughest divisions going! Head honcho @Brza37 remains in Philadelphia with the Eagles, no doubt the Eagles will feature heavily for the coming season and beyond for the post -season push. A big shock this year was @StaticGator leaving his NE Patriots position, Mr Gator wanted a new challenge and certainly has one in NFC East, luckily for him the Giants Defence is strong but can it hold out against the heavyweights! There's no shock in Dallas as the Cowboys kept hold of Superbowl winning monster @xxeternalxx surely he will run out of fingers for rings soon!
Now heading over to NFC South, now although the recently published power ranking suggest otherwise I think this is a real challenging division! Head Coach @Xipie has sailed into Tamper Bay to spear head their assault on the NFC South – HC Xipie is hoping the treasure of the division is in reach for the Bucs this season! After an impressive time with the Colts, HC @dwevans was marched out of Indy after the scandal involving his favourite crocs footwear – they didn't like that! Evans takes over in Carolina and will lead their charge but do the Panthers have the bite to match his roar? Rookie coach @FaberAK arrives in New Orleans with the Saints fans both excited and nervous to see how he gets on this season. In at Atlanta comes @epone after strong performances around the SML over a number of seasons Epone needs a settled home and he's hoping the Falcons provide that, surely with their line-up the Falcons will be pushing well into the post season!
All change over in the NFC West for three teams. Firstly, The Cardinals have brought in rookie coach @ArtmannDB to lead them to glory this season, a lot will be expected of Artmann following on from the work of HC Zill_Kills in the last few years. The LA Rams have shown faith in new HC @Pomi83. The young Rams need to get a good start in the division or face the ghost of Jeff Fisher's mediocrity. Seattle are another team unleashing a new HC to the SML, the home of the legion of boom have brought in @Dabdas in order to secure a division title, lots of pressure on his shoulders with a team thats ready to compete now and a fan base that expects wins. The 49ers have lifelong 49ers fan @davidkinghun at the helm, an experienced coach who knows how to rebuild downtrodden franchises and will be looking to move the Seahawks out of the power team slot in the NFC West.
According to the power rankings the AFC North is the SML heavyweight division. Head Coach @Hiero1994 is in Cleveland, and with some solid additions in the offseason for the Browns, Hiero is hoping his bark and bite are equally as fierce as the Dawg Pound's rabid fans. You can't deny @Warrior9674 knows how to win. He's had the best record in the league over the past four years but has no rings over that span to show for it. You can bet Who Dey Nation wants to see the Bengals take the next step and finally bring the Lombardi back to Cincy. No change for the squealers this year, fan favourite @Blitzburgh4891 remains in charge for Pittsburgh who have built a divisional challenging squad!
Head Coach @Bartell is heading back to the AFC East but not to Miami! His performances with Jacksonville as caretaker HC caught the eye of the New England management who acted quickly to bring him in – can he win his first division or make it to the wildcard, I doubt it! Speaking of Miami, they have recruited coach @DT15 to challenge for the division, with some real solid performances DT15 can throw a spanner in the works in this division. Rookie Coach @FraserOliver17 flew into NY on a Jet! The rookie coach is a fan of Lego so the breakdown and rebuild of the Jets should be a challenge that he relishes! Buffalo have moved some players on in the offseason and they have lined up an obscene number of picks for 2018 but will that stop @Mattanite competing this year – Matt will want to put the ground work in with his players to build on so could surprise a few!
Down in AFC South Tennessee have secured HC @LTown27ers to a new long-term contract, no real surprise given his love for the Titans and their love for him, LT could be a serious challenge for the divisional honours this year. Another rookie coach Max_Burgess takes over at the Colts, a big year ahead in a tough division but with some "Luck" he will do just fine! @rymac588 arrives fresh into Houston and ready to mount an attack on the AFC South, with a strong roster and a rookie QB can he bring success to the Texans? SML Favourite @"Zill_kills" was marched out of Arizona over issues around unpaid taxes which meant Jacksonville swooped to sign him up to a long term deal! Zill has a young and talented squad at his disposal this season – all eyes his way!
Finally, we get to the AFC West and some old faces of SML! Speaking of old faces let's start with @bigjimmyaston taking over at Oakland! What a move for Jimmy, a strong team led by an experienced HC will be tough for the other teams in the division to cope with. Coming out of retirement for another crack in the SML is HC @Stas. After moving from his beloved Bears Stas ended up with the Broncos, a talented team indeed and it will need to be in this tough division. New Head Coach @Shanew1705 charges into Los Angeles for his SML debut, a tough division will prove a big task for the rookie but he's got a battery of good young players to build around! Kansas City really liked what @ParaAUT cooked up in Cleveland last season and hope he can take a more talented team even further this year. Rookie QB Mahomes becomes an instant favourite for Rookie of the Year with QB-Whisperer Para guiding him.
Predictions:
Who will win the Superbowl XXIII: Cowboys
Surprise team of the season: Bears
Most TDs: Vikings
Most INT: Bengals
Most Sacks: Giants
Most Draft Picks: Bills
Most Trade Offers: Jaguars
Most Broken Controllers: Patriots
Now break out the buffalo wings and beer! Football's back!