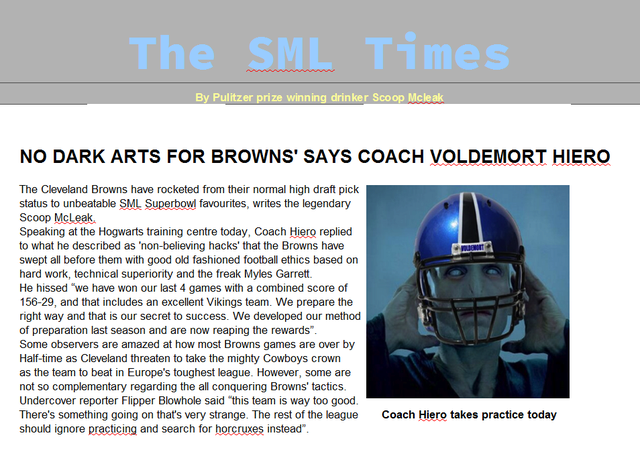 SML TIMES
NO DARK ARTS FOR BROWNS' SAYS COACH VOLDEMORT HIERO
The Cleveland Browns have rocketed from their normal high draft pick
status to unbeatable SML Superbowl favourites, writes the legendary
Scoop McLeak.
Speaking at the Hogwarts training centre today, Coach Hiero replied
to what he described as 'non-believing hacks' that the Browns have
swept all before them with good old fashioned football ethics based on
hard work, technical superiority and the freak Myles Garrett.
He hissed "we have won our last 4 games with a combined score of
156-29, and that includes an excellent Vikings team. We prepare the
right way and that is our secret to success. We developed our method
of preparation last season and are now reaping the rewards".
Some observers are amazed at how most Browns games are over by
Half-time as Cleveland threaten to take the mighty Cowboys crown
as the team to beat in Europe's toughest league. However, some are
not so complementary regarding the all conquering Browns' tactics.
Undercover reporter Flipper Blowhole said "this team is way too good.
There's something going on that's very strange. The rest of the league
should ignore practicing and search for horcruxes instead".

FALCONS HAPPY AS UNDERDOGS
Coach Epone's plan to sneak unnoticed into the playoffs
has fell apart as the team are yet to lose after 7 games.
The previously unbeaten and surprise team of the
season so far, New England, were the latest to fall to
the talented Falcons.
Experienced Coach Epone explained, we have Dallas
and Minnesota to play as well as being in a real tough
division so we were hoping to stay off the radar and
do our business. We know we have a great roster
and the hardest part is keeping the players focused.
I'm not cruel, but I do encourage my players to 'execute,
or be executed'.
Nothing too extreme then Coach??
SML HIERARCHY GET TOUGH
League headquarters Philadelphia:
Hot off the press today as news trickles out
from downtown Philly after today's committee
meeting about the current trade situation.
Scoop McLeak reports exclusively from the
darkened, high security backroom in
Hooters:- Today I have seen many serious
faces and much grinding of teeth, but once
Bishbosh left it all calmed down. It appears
that too many people are not doing things
the right way and the league are on the
verge of installing CCTV and hi-tech audio
in all team's war room facilities. The Bears
will have theirs removed under the
Freedom Of Disinformation Act'
TRUBISKY TRADE SUICIDE SHOCK
Trubisky-gate is the major shock so far this season, as
QB boy wonder and No2 overall draft pick Mitch 'Biscuit'
Trubisky has attempted to end it all after learning he
had been traded to the Jags for a low pick, ageing
Tackle and a bag of chips.
Illinois Samaritans have confirmed speaking to an
unnamed caller from Chicago who only identified himself
as No10 and, after heavy sobbing, mumbled saviour.
It is believed Coach Zill's unconventional methods
and love of RB Leonard Fournette have destroyed the
latest NFL prodigy. Let's be honest here, The jags
could have kept their picks and asked Broke Bortles
to hand off to teachers pet Fournette.
PASS TO THE BUCK?? WHO (OR WHAT) IS BUCKY HODGES
The latest SML phenomenon has arrived in New York and the rest of the league are frantically
trying to find ways to stop the behemoth Jet Tight End, Bucky Hodges. Known to teammates as
Q-Tip, Jet Coach Frazer has moulded the giant kangaroo/raptor cross into a serious force and
league secondaries are being made to look like, well, most of the league's secondaries.
Not to be confused with an ageing sci-fi character from the 70's, Duck Dodgers is a real life
cartoon character and leads the league in receptions. Let's hope the Jet's rebuilding is a success
as this guy needs a few pieces around him to make Gronk an after-thought at the annual Tight
End 'Remember When We Blocked' Convention.
Watch out for Gang Green next season. Free neck braces for all.
IN THE EVER CHANGING SML WORLD, JUST STICK TO COACHING, BOYS
Scoop's Offensive End:-
Does Coach Evans have an
off button? Can Eternal speak?
Can Zill stop? Is Bishbosh
really senile? Who will Brza
shoot first – Static or himself?
Is Mattanite just pretending to
be rebuilding? Has Warrior
finally broken the NFC's will
to win rings – for Hiero?
Will Bartell explode when Tom
retires. Will Tom explode if
Bartell doesn't?
Can Para's Chiefs keep
winning? How is Tyreek Hill
82 CiT?
So many questions. But I must
end with the obvious one-
How the heck did the Pack
tie with the Falcons?