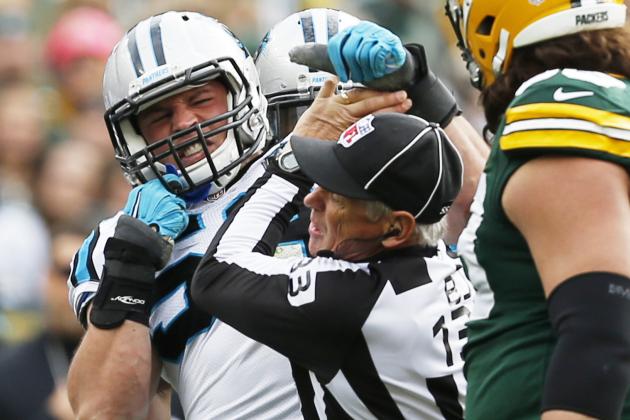 Reporter: This is Chris P. Bacon reporting live from the locker room of the Carolina Panthers. The Panthers are on a 2 game win streak and now hold a record of 2-2 for the season. With a bye week approaching, we at WBAWS thought this would be a perfect time to give Coach Korn his first interview. As he enters the locker room....his team is celebrating a win versus a tough Buccaneers team. Coach Korn is all smiles as he walks towards me.
Reporter: Coach Korn....Coach Korn can we have a minute of your time?
Coach Korn: MY MAN CRISPY.....whatcha need there buddy? You ever get that pan...that I told you....to sit your ass in?
Reporter: Ha Ha coach. I see you have a sense of humor today.
Coach Korn: I'm going to joke with you until I retire Crispy.....what do you wanna know?
Reporter: I wanted to congratulate you on the....
Coach Korn: HEY LUKE! You and the wife coming by the house tomorrow? I'm cooking ribs!
Reporter: Coooach Korn.
Coach Korn: Sorry about that.....AYE CAM....you coming by? I just got NBA2k19 and I'm cooking ribs?....Ok Ok....Yeah 3pm...OK
Reporter: Coach Korn I need to get this interview
Coach Korn: My bad Crisp....what you wanna know about?
Reporter: Well we see that you made some changes this year thru trades. Can you tell us about the new Editions?
Coach Korn: Yeah...After last season and that 1-15 record I knew we had to make some changes. When Julius Peppers and Thomas Davis Sr both retired on us I felt it was time to focus on our defense. We added DE Mario Edwards Jr and CB Eli Apple in a trade with the NY Gaints during the offseason. Then we went after CB Gareon Conley from the Ravens who I have been keeping an eye on since his Ohio State days. He got in a little bit of trouble in Baltimore and wanted out. So when the time was right....we traded for him.
Reporter: You also got Marvin Jones Jr in that trade.
Coach Korn: We did....we did. And he bought over a veteran leadership that we haven't seen before in Carolina. He really got D.J Moore and Moncrief going because he demands so much attention from the opposing defense. We gave up alot to get him but 2 wins later.....I feel like he was worth it.
Reporter: You guys just made another move that really excites me!
Coach Korn: Oh your talking about the Williams trade?
Reporter: Yeah....that was a big trade for you.
Coach Korn: It was....it was also a tough trade to make. I was second guessing myself on this trade because we gave up alot for the Trevor Williams. Shaq Thompson is a bright young Linebacker and Donte Jackson will be a star in years to come. But I want to win now....so we made the trade. But did you see T.Williams get that INT just now?
Reporter: I saw it....he almost took it to the house!
Coach Korn: THAT BOY IS GOOD! We are looking for him to do big things and shut down the opponents top WR.
Reporter: OK Coach Korn I'm going to let you get back to your team.
Coach Korn: Yessir