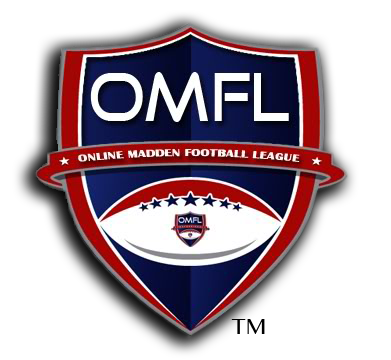 https://grownfolksoc.com • https://daddyleagues.com/omfl • https://twitch.tv/omflnate • https://www.youtube.com/user/natedawg212000
All of the information that you need will be in this thread. https://grownfolksoc.com and hit "Join Us".
Who is the OMFL?
https://youtu.be/X4e-5Wk6WlY
We do more so that you can experience more.
We are a community of leagues who inspire to create a place where adults can connect with like-minded people, play sports game in a fair and competitive atmosphere and escape the pressures of life in a place that commits itself to a realistic and organized place for gamers.
Your voice matters here and our commitment to your experience guides our decisions.
OMFL League Statement
Hi Coach, and welcome to the Grown Folks Community and the Online Madden Football League. We appreciate you giving us a chance. What you see here is just the tip of the iceberg to help give you an idea of what we are about. If this interest you then you will find the next steps at the bottom. Those next steps will give you every detail that you will need to make your decision about our league and community.
Grown Folks is a community of guys who like to game as a hobby and make some great friends along the way. We have several different games which we play here, so if you do more than Madden, check out our other leagues that we have going. If you host and own a clan, league, team, etc; then we'd love to have you join us here in our community and can offer you a forum, website, graphics and pool of owners to pull from.
We advanced every 72 hours, unless games are done sooner. We are old fashion in our communication, as we push our forum use often, even with the use of our chat program. A Discord account and forum use are necessary to be an owner in the OMFL. Our commish has 16 human years of experience running and playing in Online Leagues, since PC 2001 days. The OMFL has a history which spans over 60 Madden season and close to 500 owners over that same timespan. We aren't perfect, but we are fair.
The OMFL's main goal is to have a place where guys play together for many years to come, have tons of extra things to read and listen to, and most of all have a great time playing a game that we all enjoy. Our rule is pretty simple - don't use harsh language towards another owner and always assume best intentions. In the Grown Folks Online Community and the OMFL, we look for commitment from our members. Commitment to this league and to your team. This commitment is shown by completing the task that the league leadership assigns and being respectful to deadlines which are set. We will always offer a buy-in at the level you are comfortable with, but a commitment to the OMFL will always be required. Of course we don't mind owners who play in multiple leagues, but if this is your 3rd, 4th or 5th league and we are way down the list of priority; then we probably won't be a good fit for each other. With your commitment to the league, the league makes a commitment to you. That commitment consist of regular podcast, blogs, updated website and daddy leagues page, fair dealing in issues that arise and a voice in our rules and strategies which we use as a league each season.
We are a strategic league with fair play rules. We are NOT a sim league, and I've used that language on purpose. We've been around since 'sim leagues' were created and we operate very much like every other SIM league out there except one big difference - we do not strive for 'sim-ness'. Simulating what you see on Sundays does not translate well to a video game operated by computer AI. So instead we strive to be fair in our game play. To even the playing field where you out think the other guy with you mind, your game planning and your strategy. Not a league where you go out and get the fastest players and "out stick" the other guy. Guys who understand the right plays to call in the right situations and who have their timing down pat can win games in SIM leagues. Here in the OMFL we want guys to do more than that - we want guys to out think their opponent. Something the OMFL feels is the closest simulation to what you will find in the NFL. In the NFL fast doesn't mean good and under developed, under coached teams don't win; we want the same for our league. We are looking for owners who want to work on their GM skills, play calling skills and use good sound football strategy to win games.
IF YOU ARE INTERESTED IN A POSITION:
STEP 1 - Submit an Application
If you are interested in our league and want more information, you may send your application and see all of our rules and systems, while going through our on-boarding process. http://grownfolksoc.com/join PLEASE do not hit 'request team' on our DaddyLeagues page. We will not be able to respond to that request.
STEP 2 - Join our Discord Application Chat
After receiving your application we will email you a link to our Discord Application chat. There we will connect you with the new member thread which will walk you through all the steps.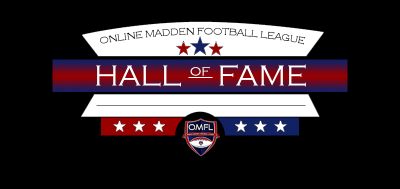 The OMFL has a proud history of 16 years of being and online, full 32 man CFM. We've had many great owners, commissioners and contributors, and now is the time to honor those people who have made us the longest online league in the world. So the OMFL is proud to announce our first ever Hall of Fame.
MtnMike (Raiders) - The first commish to take over after I started the league in 2001. After several years, I stepped back and allowed Mike to take the lead. Mike was an amazing owner and the first guy to integrate video into our league (major thing back in 2001). His articles, team website, video blogs and activity were unmatched. Mike was a true pillar in the base of our league.
Maximus (Giants) - Max was the second commish to take over after Mike. Max was always around, game play above reproach, active in every aspect and a guy who was totally sold out for the OMFL. Max helped start the OMFL Custom league and was a big piece of the OMFL having 4 other leagues underneath the main league and a waiting list of over 100 members.
Endgame (Cowboys) - Endgame was an original and we are still connected with him today. Endgame created the first shield logo for the OMFL, which was one of the best logos out of all online leagues during the PC days. That original logo is honored in our current shield look. Endgame committed countless hours as an original board members and logo creator. He was another major piece to our community.
IMGOD (Vikings) - The man, the myth, the legend - IMGOD was the original loudmouth of the OMFL. A smack talker expert, IMGOD knew how to get under peoples skin, get them active and then make you pay on the field. The myth seemed to disappear the same way he showed up - in a puff of smoke. His impact was felt in the OMFL to such a point - he's still talked about today amongst the old timers.
Dbl00 (Lions) - Dbl00 is the only original member (outside of myself) who is still in the OMFL. Dbl00 was always ready to take any team, do any request and always was a huge supporter of our league. After 16 years, he's still here. An original board member and member for the very first league.
Scared (Cowboys) - Scared was also an original and still plays in online leagues today. Scared stayed in the OMFL for many years during the PC days and even rejoined us when we moved to PS3. Scared was known for being the most passionate Cowboys owner that we've ever had. Always active and always ready to go the extra step for many years.
Dunlap (Jags) - Dunlap joined the PS3 league and quickly became a force to be reckoned with. A mind unlike any other for his GM abilities and the sticks to hang with anyone to boot. Dunlap was the first undefeated champion in the OMFL and won 3 straight championships. HIs professional experience as an on-air personality for sports talk radio came in handy as his podcast drop-ins were epic.
Bri (Bucs) - Bri was the first real graphic artist and website designer which the OMFL had. Bri was a great Bucs owner who enjoyed the game, but his real skills came for the extra things which he done. Our first real web designed website was stuff of legends. Bri's impact was felt long after he retired from the game during the PC era.
Bull (Dolphins) - Much like IMGOD, Bull was one of the first, if not the first, real personality in the OMFL. A Seminoles fan from Florida, Bull was loud, brash and never shy to back down from a fight. His energy, jokes and activity will never be matched. Bull is still missed today, much further beyond his gaming ability which wasn't too shabby itself. 
Sav (Eagles) - Savaunte was one of our few quiet owners who made this list out of pure activity and longevity. Sav was a great owner who always played by the rules. He was around enough where we all knew when he was ready to trade and his gaming ability was up there in the top 10 all time Madden players we have had in the OMFL. Sav was our quiet Canadian.
EAPlaya (Packers) - EAPlaya was the original co-commish of the OMFL and became extremely close friends with Nate. Late night 3 am chats on the PC era servers was the norm in early PC days. EA was passionate, energetic and a faithful commish to the league and it's leadership. He quickly stood for what he believed in and always put the league first. Sadly EA was diagnosed with PSD and had to retire from the league. Though we often look for him and hope that he is better, EAPlaya's spirit will always be at the heart of what we do in the OMFL.
Dunn (Eagles) - Dunn was one of the few commishes in the PlayStation era. Dunn was co-commish during the late PS3 days and took over when Nate decided to take a break. Dunn kept things going until Madden 17 when he retired and gave the name OMFL back to Nate to continue the legacy. Dunn was always fair and though not very talkative, Dunn always put the league first.
SaintsDave (Saints) - Dave came over in the PS era during PS3 days. Dave connected with Nate when the PC league folded and immediately became a huge part of the PS success. Dave was a monster at keeping history and stats recorded. Dave was never around to chat, talk trades or do anything other than his behind the scenes work and play his games.
Mustang (Dolphins) - One of the early PS era characters, Mustang quickly established himself as a guy who always had something to say and would never let you have the last word. Active, passionate and funny as hell, Mustang will never be forgotten by the ghost of the OMFL. He's a real life rocket scientist to boot.
Winuvas (Saints) - Win is Nates family member and had never played in an online CFM before. Early PS era Maddens had no salary cap and no way to trace anything that took place. Once turned on to online CFM, Win was able to use his smarts and skills to create the early salary cap and complete player tracking and handling systems. Win would also be one of the original founders of the Grown Folk Online Community and would contribute in many ways. One of which was his draft boards and Bucksman's Draft Analysis.